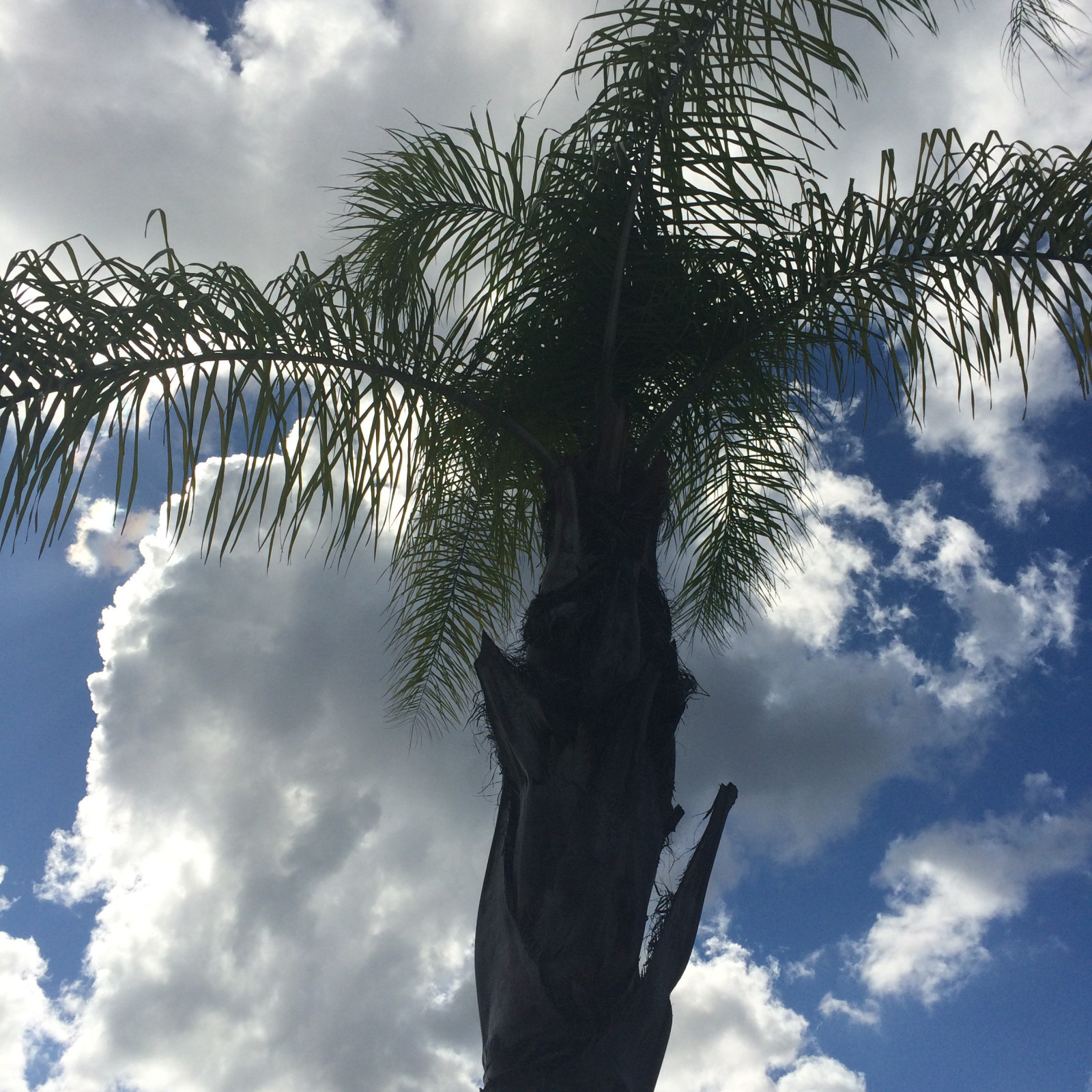 I have to confess that I have been putting off my yearly review.  It's been unseasonably warm where I live in the mountains.  It isn't quite Florida, but I came back from my trip to Orlando (see palm tree above) to flowers blooming in December.  I have been enjoying getting out and walking before the cold hits us again.
I didn't accomplish as much as I had hoped for 2015.  I have a working draft of my novel, but it still needs a lot of work before I am even close to finishing.  I had hoped to win NaNoWriMo again this year, but my health got in the way.  I had to scale back on my personal projects in November.  I am starting to feel better again, so I hope to catch up in early 2016.
For my yearly review, I read through my progress notebooks and review my calendar.  I break my review into two parts:  I first analyze what went well, and then I decide on my goals for next year.
What Went Well in 2015
Started a journaling routine
Migrated Not So Lost In Translation to WordPress
Worked out an organizational system for planning my writing
1.  Started A Journaling Routine
I have been journaling  since I was about eight.  My parents used to buy me a new journal as a Christmas present.  Every year I vowed that I would write it in every day.   Every year I ended up stopping in mid-February.
In 2015, I decided to make writing in my journal a part of my review process.
I had several reasons:
Accountability
I am studying two languages (German and Japanese) and working on drafting a novel.  Am I actually working on these three projects?  Or am I saying that I am working and not actually working? My progress notebooks help with my language study, but my writing notebook is a free form list of ideas and snippets.  Since I tend to write in bursts, I can convince myself that I am writing more often than I am.
In my journal, I set weekly goals for each of these three projects.  At the end of the week, I conduct a weekly review and decide if I achieved my goals.
To keep the system working, I set one goal for each of the three projects per week. Setting only one goal for each project is difficult. What is more difficult is making sure that I hold myself accountable for not achieving a goal. I have found that the reasons I don't achieve goals involve being overly ambitious or not defining a clear outcome when I set the goal. For example, "study Japanese" is not a clear outcome. I could "study Japanese" for five minutes or nine hours. "Work through one lesson in JA Sensei" is a goal with a defined outcome.
Keeping Track of My Life
I have tunnel vision.  When I am working on a project, I focus on it to the exclusion of the world around me. Having tunnel vision is great for completing projects, but I can lose track of my personal life.  Writing about my day helps me remember and appreciate the present as well as the future.
Learning More About Myself
Having a record of my daily activities helps me learn more about what I enjoy.  I can also better keep track of my progress in learning languages, cool Emacs tricks, and my current interests.  Since my journal is kept in Evernote, I can clip snippets from webpages and then write in my own thoughts.  It's very helpful for remembering interesting articles and code snippets.
2.  Migrated to WordPress
A long time ago I had a WordPress blog.  I enjoyed blogging, but decided to quit because I felt limited by my niche.  I had lost excitement.  After not blogging for several years, I started to miss blogging.
Not So Lost In Translation started as an experiment to see if writing a blog again would improve my writing.  When I started the blog, I decided to start using Blogger instead of WordPress because of Blogger's ease of use and integration into Google.
Blogger makes SEO easy for beginning bloggers.  Posts can be automatically added to Google+ and Twitter through Feedburner integration.  I still like the Blogger platform, but WordPress has so many different theme and plugin options. Ultimately, if I wanted to grow this blog, I needed to switch to WordPress.  Wordpress has many great plugins for SEO such as the awesome Yoast SEO.  Adding Google Analytics to your dashboard is easy.
Since I am a setup nerd, I am planning a post on my plugins and customization.
3.  Created A System for Writing
I started NaNoWriMo this year with a better organized story.  I adapted the Snowflake Method to my writing system which is a combination of Evernote, Excel, and yWriter.  When I start a new writing project, I create a new notebook in Evernote.  I use Evernote and my Moleskine as a scratchpad for ideas and the early stages of planning.
After I have most of my characters and a rough idea of the story,  I start spreadsheets for the characters, timeline, and scenes.  Excel is where I keep character information such as birthdates, appearance, relatives and anything that might be important later on in my project.  I create a separate tab in Excel for my list of scenes and point of view characters.  Each scene has a brief one sentence summary, the point of view characters, where the scene takes place, and any other characters present.
The next step is to take each scene and plug it into yWriter which is my writing word processor.  yWriter has a summary box at the bottom of each scene.  I use the summary box to expand my one sentence summary.  Since yWriter organizes writing into scenes, it's easy to move a scene to a different place in the novel.  yWriter is also great at handling large files.  In my experience, Word has a habit of slowing down as files become larger.
As I mentioned in the beginning of this post, I didn't win NaNoWriMo this year.  November was a difficult month for me.  Due to my health, I had to scale back on my personal projects.  I learned a lot about how I handle unplanned situations which feeds into my goals for next year.
For my next post, I will talk about my goals for next year and the difference between goals and resolutions.
 How was 2015 for you?