Whether you are a knowledge worker, a solopreneur, or an entrepreneur, having a mentor will help you fast track your professional development. Depending on your location and type of work, finding a mentor can be difficult. In today's post, I offer suggestions for how to find the right type of mentorship to help you achieve your professional development goals.
Mentor, Mastermind or Coach?
The first step in finding the best type of mentorship for your personal needs. Depending on your goals, you may need more than just one mentor.
A mentor is a person with more professional experience in your career who can give advice, encouragement, and connections to help you advance in your career goals. They are a great resource for an occasional meeting to discuss a few questions that you might have about your field. You can have more than one mentor. For example, if you would like to improve your speaking skills, consider finding a mentor who gives great presentations. Having multiple mentors will reduce the amount of time that you take from each mentor. Building connections with multiple leaders will also provide different perspectives and will expand your professional network.
Before you ask a person to become your mentor, consider your goals for the mentorship. If you feel that you need to meet with them weekly, it's best to be up front about the time commitment. By being honest about the time that you need, you allow a potential mentor to decide if they are able to fit time for you in their schedule. If they can't fit you into their schedule, they may be able to recommend a colleague who would be better suited to help you.
If you have several in-depth questions, you may need more training than a mentor can give. You may need a personal coach. A personal coach is a trained professional who can help you improve your career skills. There are several types of personal coaches. Depending on your goals, a coach can help with improving your management skills or making a compelling LinkedIn profile. Because you are paying a coach for their time, you can have multiple sessions to explore different career topics in-depth.
Finally, if you want multiple perspectives and want to build connections with people who are at different points in their career, consider joining a mastermind group. A mastermind group is a group of like-minded people who are all hoping to advance their professional skills. Napoleon Hill describes the benefit of a mastermind group best:
It is the principle through which you can borrow and use the education, experience, influence and perhaps the capital of other people in carrying out your own plans in life.
Most masterminds meet weekly and set goals for members. Participants may work through problems together or take turns on the hot seat and have other members offer advice and solutions to their career or business problems.
The benefit of a mastermind group is that you get multiple opinions and solutions to your problems. You also can extend your professional network exponentially. Each member of the mastermind group brings their professional network with them.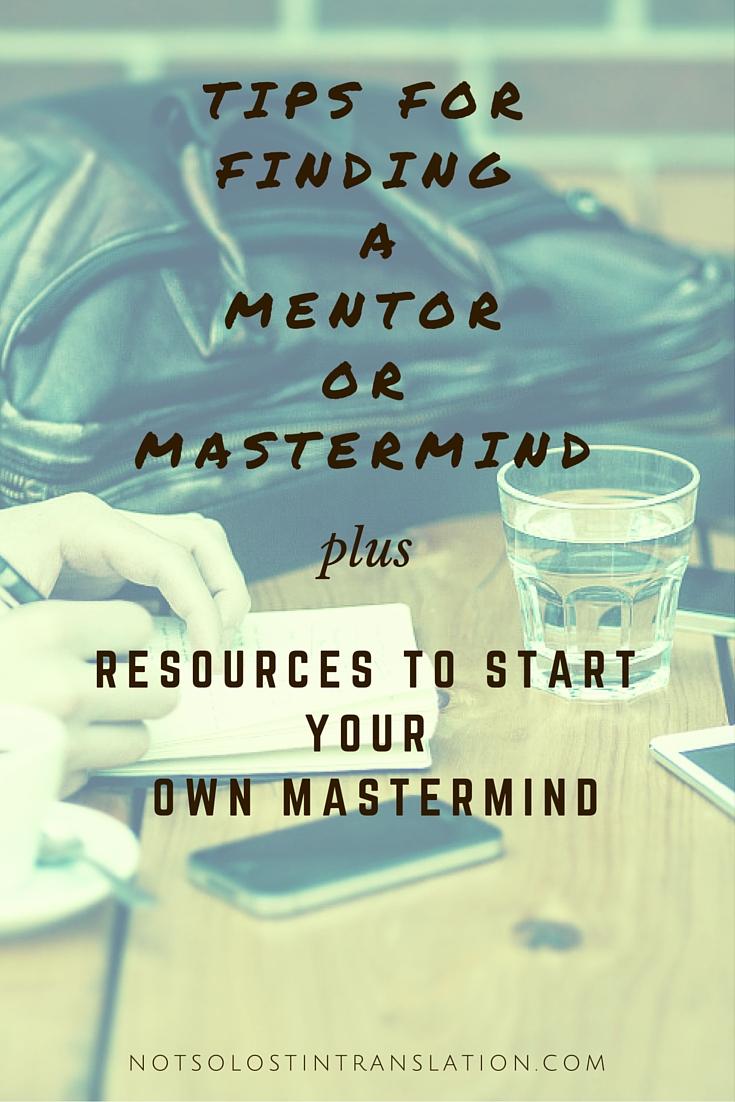 How To Find a Mentor
Ideally, you want to find a mentor or local mastermind group to help you. If you can't find support from coworkers or local professional organizations, consider a virtual mentor or mastermind group. Search for thought leaders in your field online. Build a relationship with them by reading the books that they recommend, commenting on posts, and trying their advice. If you want to make a connection, it's helpful to show that you are willing to listen to their advice by taking the initiative and following their recommendations.
Don't email for advice without building a relationship first. Many thought leaders are extremely busy people. Be respectful of their time by trying to find the answers to your questions in the content that they have already posted.
Also, you may want to consider starting your own mastermind group. The advantage of starting your own group is that you have the chance to tailor the format of the group to your needs. When starting a group, be thoughtful of the people who you invite to join the group. Although it's tempting to invite friends, being in a mastermind group together could put a strain on your friendship.
The purpose of a mastermind group is mutual improvement. It's important to keep the group on track and not to let the meeting degenerate into casual conversation. Also, one of the most important aspects of a mastermind group is honest helpful criticism. Are you comfortable being tough with your friends if you think that they are making a mistake? Could you take the same criticism from them? If you are at all hesitant, consider before inviting your friends to your mastermind group.
Consider reaching out to your social media network when starting a mastermind group. Professional groups on LinkedIn and Twitter are great for finding other people in your field who are interested in a mastermind group.
No matter what method you choose, having a mentor is the key to continued professional development. Do you have a mentor? Have you participated in a mastermind group? If so, what tips do you have to create successful mentor relationships?
Resources