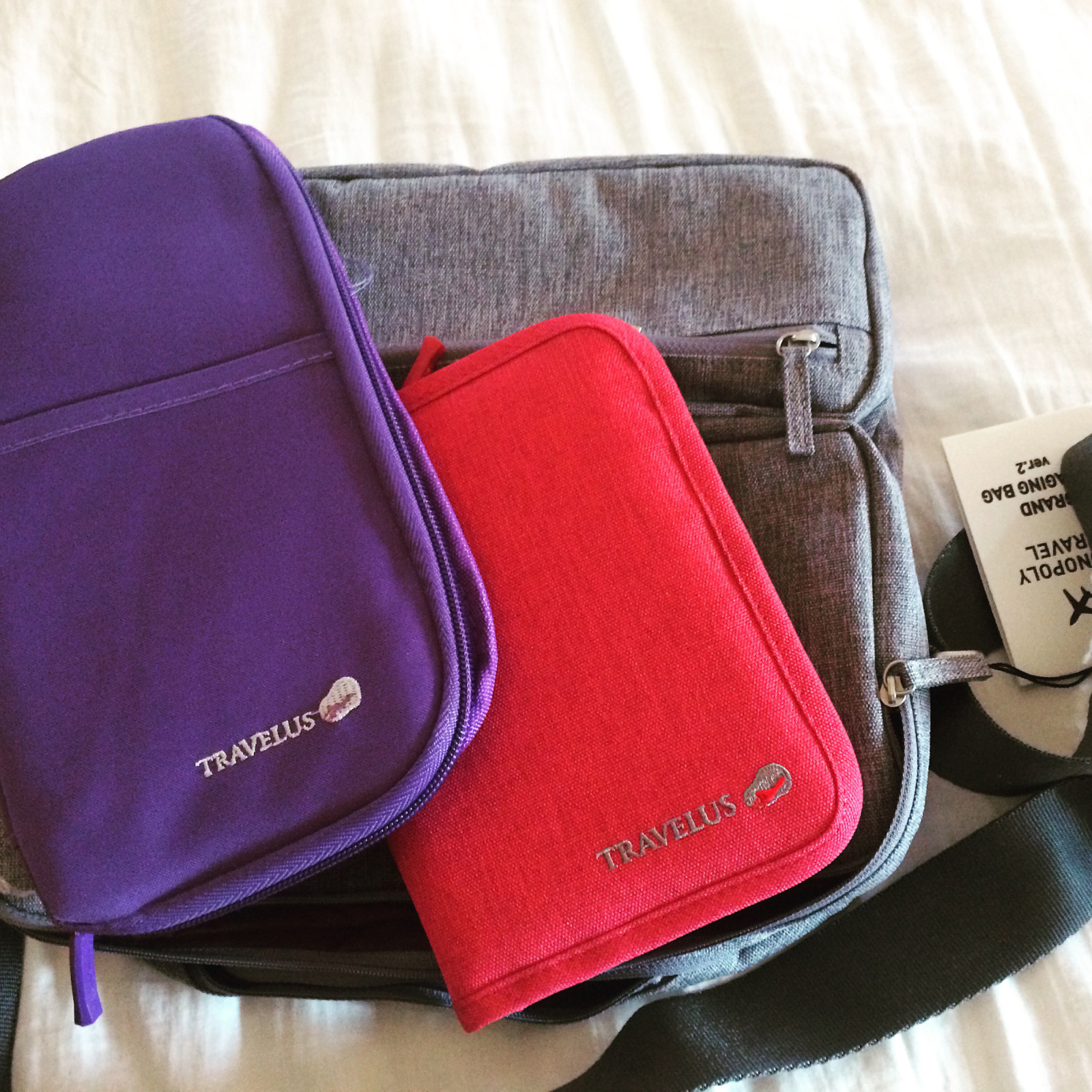 Recently, I received an email that began, "It seems like you travel a lot…"
Okay then. I am by no means a digital nomad, but I do have a lot of experience traveling for both business and pleasure. With a little planning, it's easy to have fun and be productive even when you are away from home. Here are a few travel organization tips and tricks that I have learned:
Invest in a good travel wallet
Having a wallet with multiple compartments is essential to staying organized while traveling. When I travel for business, I need to keep track of my receipts. Having an extra zip compartment is essential for good organization. I also always keep business cards, boarding passes and hotel confirmation numbers in my wallet for easy access. For vacations, my current travel wallet is this Travelus passport wallet. Depending on the length and nature of the trip, I have a cheap but cute document holder as well.
For business trips, I carry an Aigner leather checkbook wallet. This Tori Burch saffiano leather continental travel wallet is a nice option. My holy grail is this Smithson wallet.
Keep track of papers with CamScanner and Evernote
I use CamScanner and Evernote to keep a digital record of my receipts as well as any business cards that I receive during my trips. CamScanner is an app which allows you to use the camera on your smart phone as a scanner. I can take a picture of a business card or receipt and CamScanner will convert it to a pdf file which I can then email to myself. Business cards and work receipts go to my work email.
When I am traveling for fun, I also keep track of receipts as well as contact information for hotels and restaurants. I'm a big fan of rewarding great service. If I like a place, I will return again and share it with my friends as well. I keep track of all of this information in Evernote. I use tags to keep track of information. It's easy to find the great restaurant in Charleston that I want to recommend by searching for "Charleston restaurant."
Sign Up for Rewards Programs
Many rewards programs are free. Even if you travel infrequently and won't be able to use your points, I believe it is still worth it to sign up for rewards programs. Typical benefits include free internet and free gym access. When hotels start to fill up, rewards members are also more likely to be upgraded free of charge.
Tripit Pro is Worth The Price
I love Tripit. I can use it to keep track of my flight and hotel information. When I book a reservation, I send an email to Tripit, and the app automatically imports my itinerary. The app also sends me updates if there is a change in flight schedule. I have had a few cases when it updated me before the airline. Another great feature is that the app will send you a notification the day before your flight reminding you to check-in. The notification includes the check-in link which makes remembering to check in early for your flight completely painless.
I highly recommend upgrading to the premium version. Tripit Pro will keep track of your hotel and airline reward points. It will also track your flight costs in real-time. If you are eligible for a refund, Tripit will let you know!
Find Luggage That Works For You
I don't believe that there is a perfect travel bag. I do believe that it is worth the time and experimentation to find a luggage solution that works for you. While there are plenty of ways to save money while traveling, buying cheap luggage isn't the best idea.
If you are primarily a business traveler and don't use public transportation often, a spinner bag is a great buy. I have found that my Samsonite Silhouette Sphere 21″ red carry on spinner puts less pressure on my wrists, and it's easy to push it down a small airplane isle. I also love the red color which is easy to spot when you are trying to grab your luggage between tight connections.
If you are going to be walking long distances, a backpack or messenger might be a better solution. I have managed to fit a surprising amount in my Timbuk2 messenger bag. I also know people who love Tom Bihn or the Minaal bag.
Learn How to Pack Light
Learning how to properly back your bag will save you money on baggage fees as well as time and stress from waiting on lost luggage. Capsule wardrobes are great for both business trips and vacations. Some of my favorite bloggers who are experts at planning capsule wardrobes are: Live Love Sara and The Vivienne Files.
If you travel often, use PackPoint or a packing list template to save time when packing for your trip.
When I get to my hotel, I take an hour to completely unpack my bag and organize my clothes. Each day I pack the clothing that I wore that day back in my suitcase. On the last night of my trip, I am almost packed again.
Bring an Extra Charger and Power Strip
Airports are getting better at offering charging stations, but power outlets are still a precious commodity. While I admit that I am an expert at spotting unused outlets, it's much less stressful to bring along a portable charger and a Belkin small travel surge protector which comes with three plug-ins and two USB ports. I have made new friends by offering to let them share a power outlet with me.
I also carry a portable charger. That way I'm not stuck in one place during a long layover waiting for my smartphone to charge. If I am on a business trip, I carry this larger portable charger which can charge multiple devices. For smaller trips, EnergyFlux Portable Charger
multitasks as a portable hand warmer which is great if your are cold sensitive.
Keep Your Eyes Open
Don't fall into the trap of tunnel vision. When traveling, take time to look around and enjoy being in a new place. Travel brings out the child in all of us. We are thrust in an unfamiliar place and can learn new things about ourselves. Have fun!
Do you travel often? What are your tips and tricks?