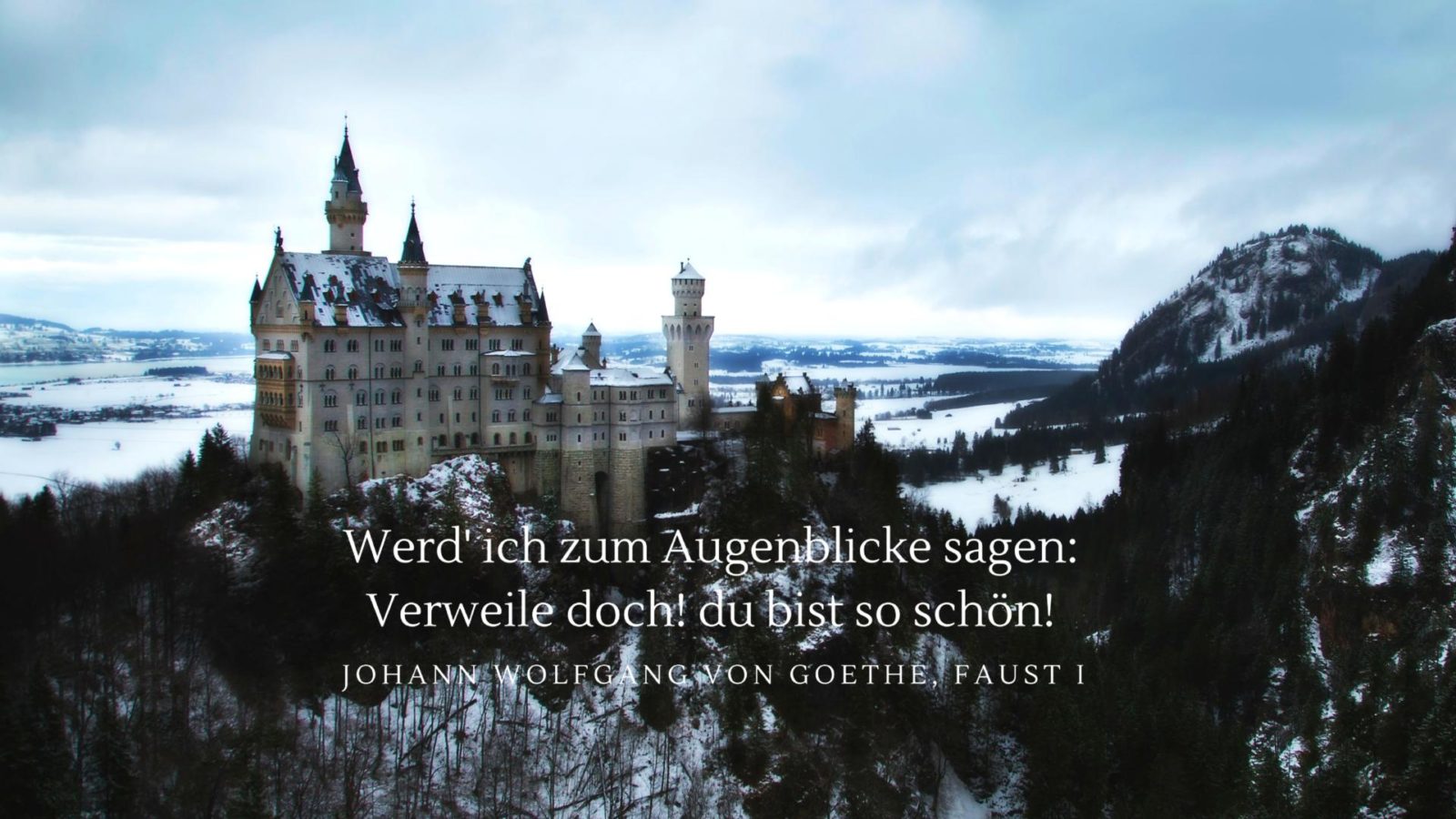 I've been going over my language learning resource page to update any broken links and add new resources. As part of the update, I have been updating my list of German language resources. Thanks to my recent trip to Japan, I have been focused on Japanese. I feel that I have been neglecting my German. It's starting to feel a little rusty!
To recharge my German, I have gone through my list of resources for German language learners. Here is an updated list of German language resources for 2016.
If you are interested, the quote in the picture comes from Faust I. Faust is Goethe's masterpiece and is one of the most famous works written in the German language. In the play, Faust is a bored intellectual who makes a bet with the demon Mephistopheles.
Faust's quote is the essence of his bet with Mephistopheles. The phrase translates to something like "If I say to the moment: stay a while, you are so beautiful!" The essence of Faust's bet with the devil hinges on complacency. If Faust ever wants to stay in the moment rather than focusing on the future, he is doomed.
My first tip for evaluating new learning resources is to learn the Common European Framework of Reference for Languages. The CEFR is an internationally recognized grading system for rating your fluency in a language. The CEFR ranges from A1 (absolute beginner) to C2 (advanced fluency). Many of the following resources will reference the CEFR. If you aren't quite sure where you fit within the framework, Deutsche Welle has a placement test which will help you determine your proficiency level.
Blogs
Emanuel's blog is a great resource for German students at all levels. One of my favorite features is the Word of the Day feature. He goes into great detail about the history and various uses of each word that he features. Visitors have access to two free articles per week. If you become a site member, you have access to the entire archive of articles. For a good overview of the site contents, check out the online German course.
Newspapers
Nachrichten Leicht is a good starting point to start building vocabulary. This website gives a weekly summary of the news in simple German. If you are a beginning student who wants to start reading and listening to the news, pair Nachrichten Leicht with Langsam gesprochene Nachrichten.
Die Zeit is a weekly newspaper based out of Hamburg. The newspaper has the highest circulation among weekly newspapers in Germany. Die Zeit rates third behind Der Spiegel and Stern for highest subscription rates. Die Zeit is a good starting point for learning to read German newspapers.
Focus is one of three highly popular weekly news magazines in Germany. Positioned as the conservative competitor to Der Spiegel, Focus is worth reading for its own sake.
Frankfurter Allgemeine Zeitung
FAZ is one of the most respected newspapers in Germany. Because of Frankfurt's position as a financial center for Germany, FAZ is well known for its finance articles. FAZ also covers local news to the Rhein-Main area as well as international news.
Based out of Zürich, Neue Zürcher Zeitung is a good not only for news from Switzerland but also international news as well. Because of the importance of Switzerland in international monetary markets, NZZ is a great complement to FAZ for financial news in German.
Der Standard is one of the most important newspapers in Austria. Originally started as a financial newspaper, Der Standard has a left liberal stance.
Podcasts
In this podcast, Annik Rubens speaks slowly about daily life in Germany. The Absolute Beginner category is especially helpful if you are a new German student. The podcast has a basic (free) as well as a premium version. Subscribers to the premium version get vocabulary lists and exercises as well.
Langsam gesprochene Nachrichten
Deutsche Welle has a daily news podcasts which gives the highlights of the daily news in slowly spoken German. The podcast also includes a transcript of a text. Use Langsam gesprochene Nachrichten to improve your speaking comprehension.
Dictionaries
Duden is the best German-German dictionary on the internet. Higher level German students should start with Duden when looking up unfamiliar vocabulary.
Beolingus is my favorite German-English dictionary. In addition to having a large database of vocabulary, Beolingus also has example sentences for many entries. The example sentences are helpful for learning vocabulary in context and deducing the meaning of similar words.
Online Courses
The BBC website has beginner foreign language courses in several languages. The German language course is a good free language course for beginner German students.
Mein Sprachportal is Austria's German course designed for immigrants to Austria who need to learn German. The site is open to immigrants who are living in Austria currently as well as German learners who are living abroad.
Deutsche Welle has a wide range of German courses ranging from beginner to advanced. I recommend Deutsche Welle as a resource to all German students. The Top-Thema video series is great for intermediate students. The series features current events as well as slices of life in Germany.
Grammar
Bruce Duncan's site is part of the German Studies program at Dartmouth. The site contains reviews of several components of German grammar including gender, tenses, and word order.
The University of Texas website takes a humorous approach to learning German grammar. The grammar guide features characters from Grimm's fairy tales who walk you through various aspects of German grammar.
CanooNet is a German language grammar and dictionary site. Some interesting features are the overview of the Rechtscreibung rules and the Wortbildung function. The Wortbildung function is helpful for learning the rules for how to build compound words in German.
Textbooks
The Mittelpunkt textbook series is designed for German as a second language learners within Germany. These textbooks are entirely in German which makes them great for intermediate German learners. The link above contains several online exercises associated with the textbooks.
YouTube Channels
Jenny's videos are helpful because content is rated according to CEFR level. Each video also has exercises to test your understanding.
Tour Germany with Cari and learn what Germans think about various topics. In this podcast, Germans on the street are interviewed on a wide variety of subjects. The podcast is great for building listening comprehension. You are listening to native Germans speaking at a normal pace. The podcast also includes German and English subtitles. All German students should enjoy Easy German.
Julia has created several German Youtube courses. The courses range from beginner level to intermediate and advanced courses. She also has a short Business German (Handelsdeutsch) course.
Test Preparation
The Goethe Institut certifications are the most widely recognized tests for proficiency in German. However, depending on your goal, a different test such as the TestDaF might fit your needs better. All German proficiency tests will test reading, speaking, writing and listening ability. Use the links above to improve each of these categories. To familiarize yourself with some of the kinds of exercises that you will see on a proficiency test, use the links below.
Schubert- Deutsch als Fremdsprache
Schubert contains several online exercises designed to accompany their German as a second language texts. The exercises are also helpful for practicing for the TestDaF or Goethe Institut certifications.
Modellprüfungen und Übungsmaterialien
The ÖSD series of exams span the entire range of the Common European Framework of Reference for Languages. These tests were developed by Austria as certifications for German proficiency. The website contains practice material for all of the exams.
Your Turn
Are you learning German? What are your favorite resources? Let me know in the comments!
Pin This: