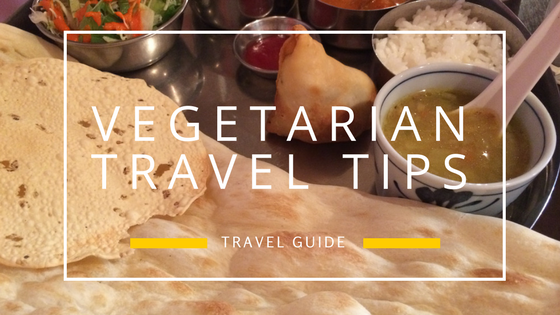 I get a lot of questions about being vegetarian. The most common one is: "What do you eat?" I always find this question amusing since the answer is simple. Since I eat pretty much everything without meat, I have a lot of food options. While I don't struggle with the vegetarian lifestyle, travel can prove more difficult. Before my trip to Japan, I spent lots of time researching how to eat vegetarian in Japan. To make your trip stress-free, do your research ahead of time. Here are some of my vegetarian and vegan travel tips.
Pack Snacks for the Airport
Airport food is expensive. No matter what your diet, relying on airport food means that you are going to pay more for meals. While liquids are limited in carry-on baggage in the United States, you can bring your own snacks to eat on the plane. I usually bring Kind bars or homemade granola bars. You can also bring small plastic containers with fruits, cheese and nuts. Here is a great list of vegan snack ideas.
Research Restaurants At Your Destination
Do some research on your destination to find vegetarian and vegan-friendly restaurants. I rely on HappyCow to make decisions about restaurants. HappyCow is a vegetarian and vegan-friendly search app which will find restaurants that meet your dietary need. In addition to the website, there is an app for your smart phone. You can choose vegetarian or vegan only restaurants or restaurants with vegetarian or vegan options. The reviews by fellow vegetarians and vegans are really helpful in deciding which restaurants to visit.
Other places to find vegetarian and vegan friendly restaurants are Pinterest and TripAdvisor. Search for vegan restaurant plus your destination and Pinterest will often suggest pins with suitable restaurants. TripAdvisor has a vegan options tag for sorting restaurants at your destination. The reviews on TripAdvisor are also helpful for choosing restaurants.
If you are traveling for business, you may not be able to pick all of your dining choices for your trip. If you know which restaurants you will be visiting, you can check the website before your meal to see what vegetarian or vegan options are available. Even if none are listed, most restaurants can meet special dietary requests. It's always better to call ahead and ask what vegetarian or vegan options are available.
Turn Your Hotel Room Into A Kitchen
Depending on your diet restrictions, the easiest option may be to cook your own food. The benefit to cooking your own food is not only will it be healthier, but you can also save money on food and extend your trip! Many corporate hotels have a small kitchenette or at least a microwave and refrigerator. Tasty Bite makes microwave pouches of vegetarian Indian meals. If you pair a pouch with pouch of brown rice, it's an inexpensive and quick meal.
If you are traveling by car, you can bring an Instant Pot or rice cooker and make your own meals. Here is a great post about how to use a rice cooker to prepare lots of healthy meals while on the road. For maximum versatility, use AirBnB to rent an apartment with a kitchen.
Your Turn
Are you vegetarian or vegan? Do you have dietary restrictions? What are your tips for traveling stress-free? Let me know in the comments!
Pin This: