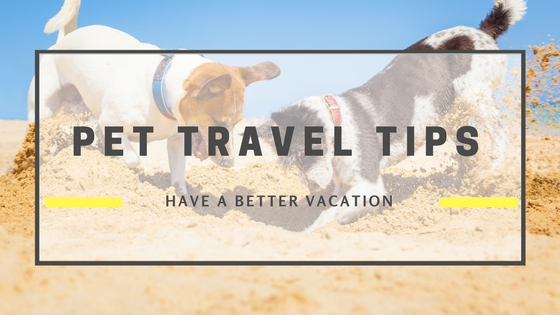 You've decided to bring your pet on vacation. Traveling with pets can bring its own challenges, but the reward of having all the family enjoying the vacation is well worth it. Here are a few pet travel tips for making your next trip awesome,
Note: this post was co-written with Trixie, canine travel expert.
Pet Friendly Destinations
Not all places are pet friendly. If you want to bring Fido to the beach, you need to make sure that the beach allows dogs. I live on the east coast of the United States, and many beaches don't allow dogs or only allow dogs during off-season.
Trixie and I have traveled to Myrtle Beach several times. Finding pet friendly beach houses or hotels off of the beach is easier than finding a room at an oceanfront hotel. Only a few oceanfront hotels are pet friendly. When Trixie and I last visited Myrtle Beach, we stayed at the Breakers Resort. Unfortunately, it looks like the resort no longer takes pets. The centrally located Patricia Grand hotel does allow up to two dogs with a $20 fee per dog per night. Certain breeds are restricted.
During peak season, dogs are only allowed on the beach before 10 AM or after 5 PM.
Note from Trixie: If you are going to take your dog on the beach, be a responsible pet parent and clean up after them! It only takes a few people to spoil everyone's fun.
Trixie and I both love Vilano Beach, located just outside of Saint Augustine. Vilano Beach is a smaller and quieter beach that has a more relaxed vibe. As a bonus, it's minutes away from historic Saint Augustine. While Saint Augustine doesn't have Charleston's food scene, it does host quite a few nice restaurants. Best of all, the Vilano Beach welcomes pets.
Hotels That Welcome Pets
If you are going on a road trip, it helps to know which hotel chains welcome pets. Almost all La Quinta hotels allow dogs and many don't require an extra fee for pets! Many Best Western hotels are also pet friendly. Select Doubletree hotels also allow pets. Hyatt has a listing of pet friendly hotels. The Park Hyatt Chicago donates the $100 pet fee to PAWS (Pets Are Worth Saving) Chicago, the city's largest No Kill Animal Shelter. For an easy way to find out if a hotel at your destination is pet friendly, check out Bring Fido which lists pet-friendly hotels and restaurants.

Tips for Road Trips With Your Pet
As you can see from the picture to the left, the safest way to travel with your pet is with your pet in a carrying case. Trixie is demonstrating her Houdini-like ability to get out of a safety harness which has been clipped into a seat belt. When choosing a carrying case, it's important to pick a case that can be secured in the car and one that has been crash tested. As a bonus, the case can be used as a crate when you get to your hotel. Never travel with your dog unrestrained in the car. If humans have to wear seat belts, everyone has to travel safely.
Start on small day trips so that your pet gets used to being in the car. Cover your car seat with a blanket or seat cover to make cleaning messes easier.
Note from Trixie: always plan for extra stops. I start whimpering every two hours so that I can get out and stretch and look around.
Pet Travel Essentials
Always have water on hand for your pet. Trixie considers herself part-human and will drink out of a paper cup. If you have a larger dog, these portable dog water bottles are great for having water available.
If your pet likes to travel with a lot of accessories, consider getting them their own set of luggage. Trixie has a travel bag with collapsible food and water bowls and compartments for bringing food, treats, toys, and other travel essentials. Her travel bag is no longer available, but I am considering upgrading to this travel bag option which can fit on a luggage handle.
Before you go on a long trip, bring your pet to the vet to get them checked before you leave. Take your vet's number with you and have the number for the local emergency vet as well.
Your Turn:
Do you travel with your pet? What are your tips and tricks?
Pin This: