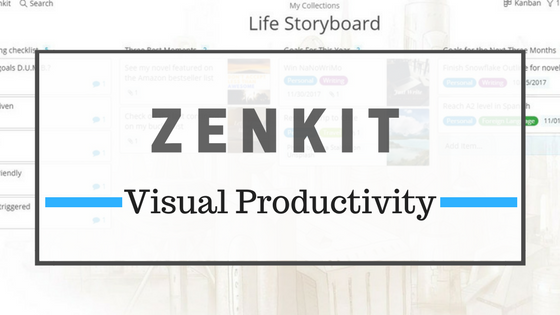 I'm a big fan of visual planning and organization. As a creative person, I used to rebel against any structured planning. I had heard a lot of about lifeplans, but I struggled to find the time and motivation. However, I also understood that structured planning is essential to achieving goals and living an awesome life.
I have written about how I use Trello to create a vision board for my life. I also use Trello for my blog editorial calendar. Lately, I have explored Zenkit, which is a newer player in the visual productivity space.
Zenkit Advantages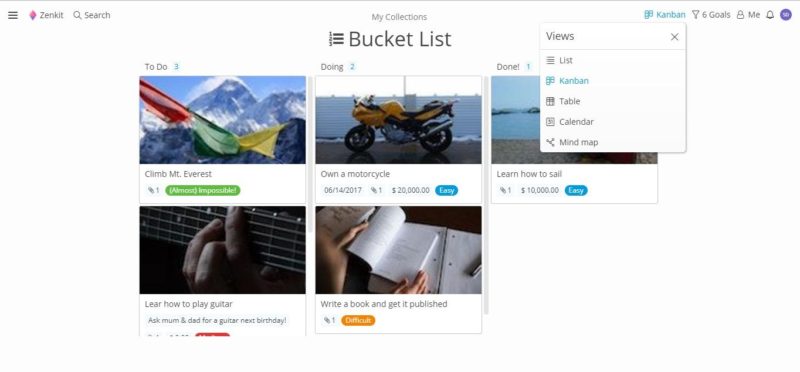 Like Trello, Zenkit's main method of organizing information is entering projects and tasks into cards. However, with Zenkit, you have different options for how you view your boards. In Zenkit, each board is referred to as a collection and each card is referred to as an item. You can view collections in the following ways:
List: an ordered list of tasks
Kanban: tasks can be separated out according to status ("To-Do", "Doing", "Done") or according to categories that you create
Table:
Calendar
Mind map
As you can see, Zenkit offers you multiple views on your project instead only a Kanban board. Multiple view options are great for highlighting deadlines (calendar), viewing team member responsibilities(table), or having a list of tasks that need to be completed.
In the Kanban view, you have the option of sorting items according to multiple categories. To create custom categories such as "Waiting For" or "Project A," click on the custom field entry under item view. Under Type, choose "Labels" and enter your desired category.
The Mind map view is one of the most interesting strengths of the application. Honestly, I wasn't sold on the idea of mindmapping integrated into my project management system. I decided to try the function on a new novel project.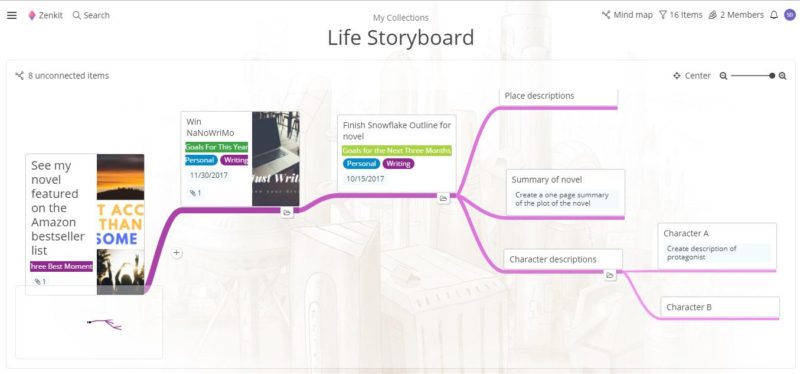 Benefits of the Mind Map View
Where has this feature been all my life?! As you can see from the image above, you can integrate items into a mind map. In Mind map view, you can add new items as you find new tasks that need to be completed.
Mindmapping is a great feature to have at the beginning of a project when you are setting up your list of tasks. The Mind map view is easy to use and quick to learn.
One of the best ways to use Mind map view is to integrate it with a GTD system. When mapping out a new project, use the Mind map view to ask yourself "What is the next action?" Having a visual brainstorming method included in your project management system makes it easy to figure out where you have gaps that need to be completed.
Zenkit Limitations
Most of Zenkit's limitations come from its age. As a newer application, it doesn't have as many options to connect to external software. Although Zenkit doesn't have direct access to applications like Trello does through power-ups, there is a growing Zapier library of integrations between Zenkit and other applications.
My major frustration is like of complete support for Markdown. Zenkit just added limited support for Markdown during the last upgrade. To use Markdown, you need to add a custom field to the item. When adding the custom field, choose "Text" as type. A textbox will appear in your item. Click on the arrow on the upper right side which will pull down the full text entry ribbon. For mode of entry, click on "Plain" and switch to "Markdown."
While I am excited that Zenkit has started to support Markdown, I would like a more universal integration. Currently, I am limited to using Markdown in text entries. Trello automatically supports Markdown no matter where I am in an entry so I can easily add links to checklists.
Final Thoughts
Overall, I like Zenkit's visual approach to project management. I enjoy having different options for viewing and manipulating my tasks. I found the application easy to learn and Zenkit provides several video tutorials to introduce you to the software.
Zenkit has just added templates to help you get started. Templates are included for many personal and professional uses: family medical history, project planner, and templates for new hire on-boarding. Personally, I am adapting the GTD template to my current system and working on the Bucket List template. It's perfect for my "40 Before 40" list!
I have moved several of my Trello boards to Zenkit. As part of my evaluation of Zenkit, I created a new Vision Board template which I will be using Zenkit to update my Vision Board for 2018.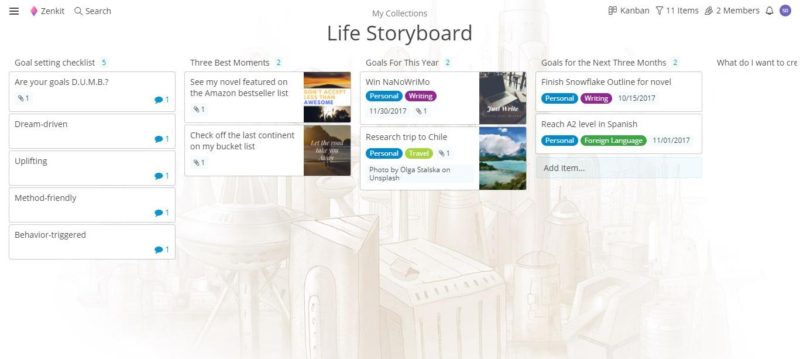 In conclusion, I have found that Zenkit is a strong new addition to the visual planning space. By offering multiple views and methods for manipulating your tasks, Zenkit makes it easy to keep up with projects.
Like this Post? Pin it!